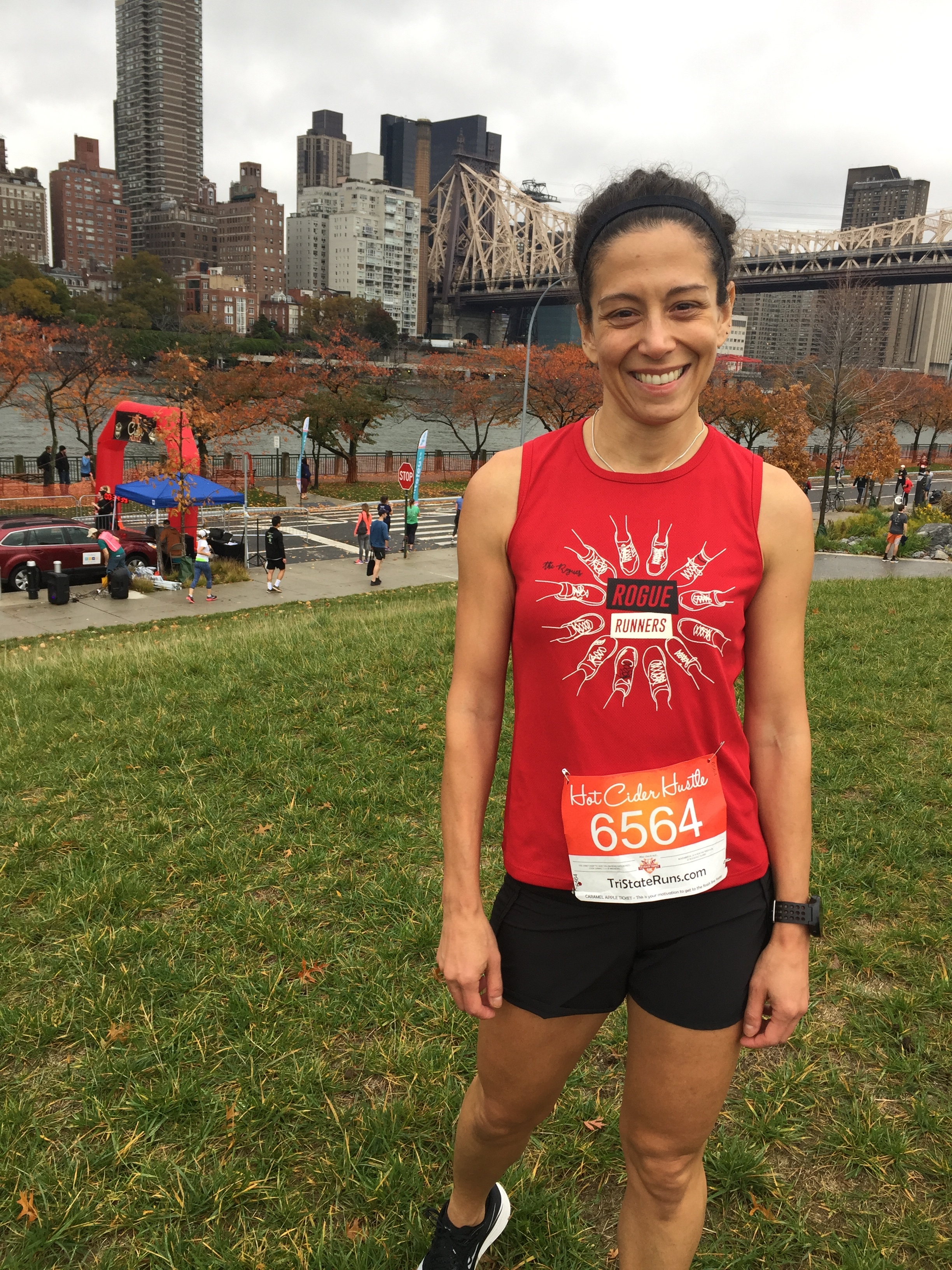 Steph is the President of the Brooklyn Rogues. She is an RRCA Level-1 certified run coach with 6 years of experience coaching runners in all road-race distances.
She is also an E-RYT 200 certified yoga instructor with 20 years of teaching experience and self-confessed "anatomy nerd." She is revered for her ability to pinpoint what's going on with your body — what's causing that pain in your hip or that tightness in your psoas.
Steph was the co-founder of Mala Yoga, where she engineered the groundbreaking Yoga for Runners program, which countless runners have credited with saving and furthering their running careers.
Among her more than 60 races, Steph is a four-time marathon finisher, and has run more half-marathons than she can remember. Steph regularly finishes among the top-3 in her age group.
Warm and welcoming, passionate and personal, Steph not only remembers your name, she remembers your injury history!

Brandon is devoted to the science of running and its practical application to your training. He holds the following certifications:
USATF Level 2
RRCA Level 2
Lydiard Level 2
RRCA Youth Coaching Level 2
Corrective Exercise Specialist (NASM)
Performance Enhancement Specialist (NASM)
As a master's athlete, Brandon understands what it's like to be an adult beginner, and he is deeply committed to supporting a community where all runners feel welcome. He is the Vice President of the Brooklyn Rogues, and leads the workouts on Tuesday and Thursday mornings.
Molly Forr
Molly is a lifelong runner with racing experience ranging from 400m to the marathon. She is a certified personal trainer, USATF-certified run coach, and self-proclaimed run nerd. As a runner and coach, she is committed to learning and teaching the craft of running both as a practice and as a competitive sport.
Highlights of Molly's running career include sweeping the sprint events (and beating all the boys) in an elementary school track meet, and running her first Boston Qualifier in 2016.
Molly leads the Sunday Shakeout, curates our Learning & Libations education series, and serves on the Board of Directors for the Brooklyn Rogues.

Jake Slovis
Jake never understood the appeal of running — until he completed his first half-marathon in 2014. That day, he caught the run bug, and he hasn't slowed down since. Now, he's an RRCA Level-1 certified run coach who leads the Saturday Long Run for the Brooklyn Rogues.
Jake teaches in the Department of Humanities at the New Jersey Institute of Technology and writes stories about running, travel, punk music, and literature. He lives in Bed-Stuy with his partner, Kate, and their dog, Bruce. He hopes to start a run-themed punk band called Heel Strike if he can ever find a drummer.
Brian Turpin
Once upon a time, Brian raced once a year. When the Brooklyn Half was over, so was his running. Then, one year, he was determined to break the 2-hour mark. When he did it, everything changed. He caught the running bug, and hasn't looked back. Today, Brian is a half-marathon devotee, and his passion for the sport has inspired co-workers and friends to run. When he found himself continually being asked for training tips, coaching, for Brian, was inevitable.
He is an RRCA Level-1 certified run coach, who loves mentoring new and novice runners, not just with their times, but with finding a positive mindset. Brian always brings a cheerful energy, ready to run.
Blakeney Schick
Blakeney is an RRCA Level-1 certified run coach who has worked with runners with many different levels of experience. Since she started running in 2014, Blakeney has raced everything from miles to marathons. Her favorite distance is the one she's training for.
Blakeney has been a Rogue since our very first run, and sets four alarms to make sure she doesn't miss the workout.
Blakeney is also a yoga teacher and a certified personal trainer.

Rebecca Darugar
Rebecca is an RRCA Level-1 certified run coach with experience coaching runners to meet their goals for a variety of distances. A serious non-athlete growing up, she recalls crawling to the one-mile finish line during the Presidential Physical Fitness Test in elementary school. As an adult, she found the life-changing joy of running — both solo and as part of a group. When not running, Rebecca works at an education nonprofit and chills with her cat.
Beth Dukes
At age 8, Beth began her love affair with running when she placed second-to-last in the elementary track team mile race. With that, she did what most second-to-last runners do and turned to cheerleading. In high school, Beth joined the cross country team (to stay in shape for cheerleading of course), and ambitiously went for varsity. This landed her in a wheelchair for a few months after she ruptured a ligament in her ankle.

These ignominious milestones led Beth to believe that running was simply one of those things she needed to keep after. Some call it masochism, Beth calls it destiny. She made a firm New Year's resolution in 2015 to run a half-marathon, and the rest is history. Beth is an RRCA Level-1 certified run coach, an un-certified running beast, and she still remembers the SHAPE Women's Half Marathon in NYC, which she completed with fellow Brooklyn Rogue, Rebecca.
Yuen Chun
Yuen is an RRCA Level-1 certified run coach with a passion for the long stuff: she took up trail running in 2003 and ultra running in 2005. She's paced and crewed several 100-milers, two of which are part of the Grand Slam of 100 milers (Wasatch and VT100). Since 2009, she's supervised registration for the VT50.
Yuen is a former board member of the Van Cortlandt Track Club and was the race director for their Riverdale Ramble 10K (2005-2007).
Yuen is also a volunteer coach for Back on My Feet, an organization which empowers the homeless through running. With BOMF, she's served three rotations as co-captain for Team Bowery.
Yuen is a CPA, works in the securities industry, and serves as Treasurer for the Brooklyn Rogues.

Adam Brodsky (Team Captain)
A competitive runner since the 1980's, Adam has raced every distance from 400m to the marathon, and even a couple of half Ironman Triathlons. Adam loves running with a group of people willing to wake up before the crack of dawn and support each other just by showing up to train, race, and cheer. He serves on the Board of Directors for the Brooklyn Rogues.
Feel free to email us for any questions, and follow us on Instagram